Got another flyer from Omaha Steaks last week so what the hell, why not give it a try. At this point I'm pretty much resigned to paying more for less quantity of higher quality meat so it's not as bad a deal as I used to think it was. This deal was "12 free burgers" when you buy a bundle of meats. Here's how it's gone so far:
1) Try the website and the deal on the coupon is nowhere to be found. Of course no coupon code on the flyer to look up.
2) Call the 800 number, indian sales rep picks up almost immediately.
3) Wade through 15 minutes of her trying various upsell schemes before even getting my order in the "cart". Ended up adding an additional 12 burgers which put the order over $150 earning free shipping.
4) While going through her "columbo close" upsells, find on the site a $25 off deal if I give them my email, did that. Interrupted indian girl to say, "oh, wait, I just was offered an additionsl $25 off on the website for signing up, can you apply that as well?"
5) girl puts me on hold while she consults their "customer support team", comes back and says yes she can get that done but the other department will have to apply the discount
6) another 10 minutes of various offers including trying me to sign up for a yearly fee for special discounts on a product I've never had before, ugh.
7) turns out they double charged me, first a hold for $169 (the original price) then a charge for $144 (the extra discounted price) and still waiting for the hold to release
Order Process rating = F (I could have gone to Costco and back in less time)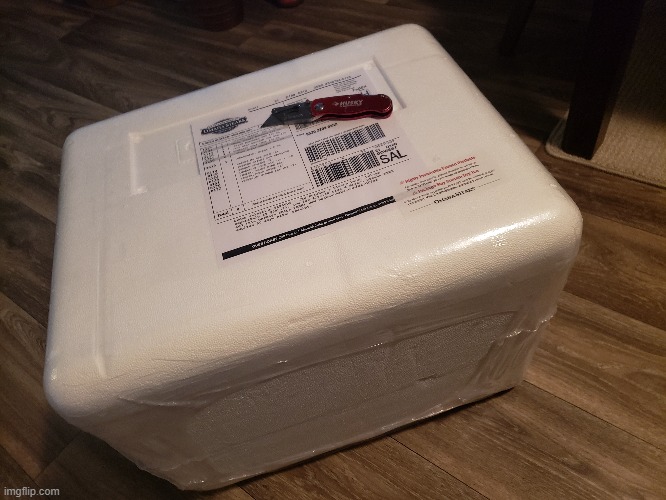 Well, FedEx has some egg on it's face as well. Delivery was scheduled for Saturday but tracking showed it sitting in Hillsborough OR until Monday. Bad FedEx. Bad boy. The dry ice in the cooler was fully sublimated when I got it but luckily they did use a freezer truck for all except the last mile so everything was still frozen.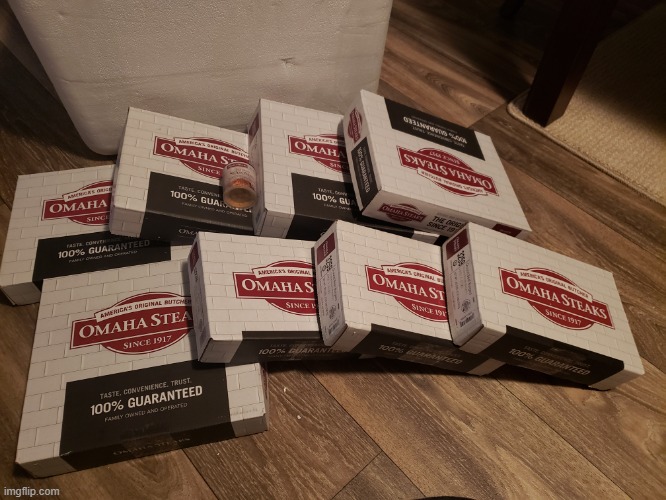 Cute labeled boxes in the cooler. Not sure cardboard is the best idea in a chilled environment, condensation and all, but ok.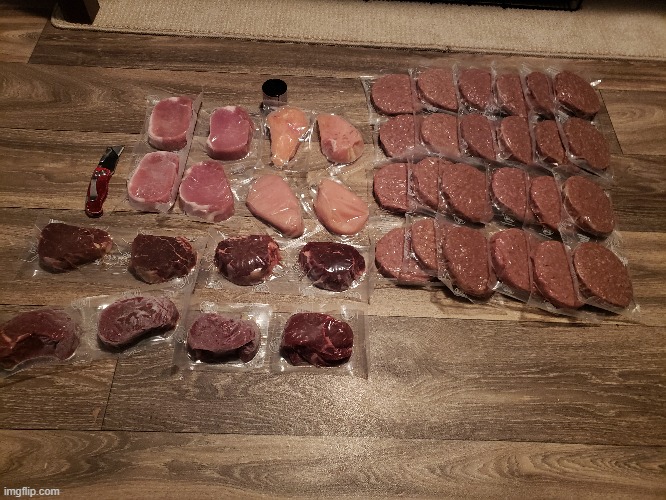 Frozen meat, super tightly vacuum packed in heavy plastic. These puppies are going right into the freezer.
So the order. All of the steak is 14 day aged prime.
4 Filet Mignons: 5oz which is small but the saving grace is they are nice and thick. Been enjoying pan seared filets with butter so that's probably in these guys' future.
4 Sirloins: also small which is absolutely not the way I roll with sirloin but ok. Probably will cook these with the filets and have a little of both.
4 Chicken Breasts: these had better be the best tasting chicken breasts I've ever had. I better do something interesting with them to justify bothering.
4 Bonless Pork Chops: not too much smaller than supermarket boneless chops. Definitely going to brine them for a couple of days and then looking for some kind of caramelized apple sauce or something.
24 Burger Patties: When I was 17 I had a friend who was living at his grandparent's boat cottage on Canandaigua Lake and we spent the summer water skiing. Besides learning to drop my second ski and jump the wake, the best parts of the summer were his alcohol collection and cooking burgers on an outside Propane grill. I've always been a charcoal grill guy and of course still love the taste and experience but there's something uniquely satisfying about taking a patty out of the freezer throwing on a propane grill and eating a fresh tasty burger within 5 minutes. No fuss, no mess, just throw it on and flip it you're done. I'm not going anywhere near Burger King or McD's all summer long. Convinced the wife to let me get a propane grill, primarily for these burgers. I could get a free grill any day of the week on Craigslist but I'm thinking something like this at Home Depot around the corner.
Stay tuned, the dishes that come out of this adventure will follow.